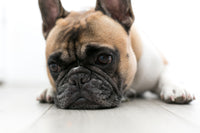 Affordable quality care from a team you can trust. We care for your pets as if they were our own.
 Our staff is dedicated to discovering the root of your pet's health concerns. We aim to provide top-quality customer service backed by exceptional medical care at an affordable price.
With our preventive approach we strive to prevent problems from occurring with your pet.
Our high standards enable us to provide the devoted care that your pet deserves. We know trusting your pet's health with a stranger can be difficult, which is why we make our best effort to get to know our pet parents and patients on a more personal level. We implement diagnostic imaging alongside laboratory services to provide pet parents with a well-defined diagnosis. Should a veterinary emergency occur, we make our best effort to see pet patients promptly and provide care as soon as possible. 
That time we did something right
I have never been so pleased with a veterinarian office as I was with Animal Hospital & Dental Clinic. The staff was amazing, very helpful very caring. The doctor was amazing, called me at home a couple times to check on my dog see how things were going after having her teeth pulled. And when I walked into that vet office, it did not smell like a veterinarians office at all. The cleanest place I've ever been in. Not one smell of animals. I was shocked they did not smell a veterinarian office. It was very clean. I was very pleased how we were treated how my dog was treated. They went out of their way to help us because we don't live in Fresno. And came there to get her teeth pulled

Cin S H / google
Positive: Professionalism, Quality, Reliability, Responsiveness.I just want give thanks and much appreciation for the ladies in the front office for being so kind, helpful, attentive, professional and amazing to my baby Cleo. She got spayed and I was always notified when there is any updates during her operation. I knew they were giving my brat the best affection and love when she was probably really stress out and anxious. I also want to say thank you to the Doctor who called me about Cleo and any warning signs in the future about her health. He was very thorough and took his time to explain and answer all my questions. I wish I could give this place more than 5 stars. Cleo has a regular vet she sees but because of the amazing and outstanding customer service they provided, this might be our new home. They are honest and professional. I am so picky, I wish I knew about this place before. I suggest you come here if you want your pet in good hands with an incredible staff. I've never felt once ignored or felt "rush" at all with the doctor and his crew.

Gereika S. / google
My cat had been dealing with drooling. They were available Saturday since it's hard for me to request time off from work. They evaluated him were very professional and nice. Explained everything to me So I could understand my cats Condition. Said he needed to have surgery to remove some teeth. Was able to schedule surgery soon. They were nice enough to keep me updated the day of since I was really nervous for my cats procedure. Sent me home with the necessary medication. My cats seems be returning back to normal. Over I am satisfied with my cats care.

Daisy N. / google
I have brought two of my little dogs here so far (the other two are coming soon)! Two chihuahuas, 8 and 9 years old. I was pretty worried about putting them through dental surgery but they certainly needed it. The vets there were incredibly sweet. They didn't judge us and made sure our boys would be safe during the surgery. They did blood work, chemistry panels, X-rays. Mari the dental tech was VERY thorough on explaining the procedure and what would happen. She took excellent care of them! One of our boys got every tooth pulled and he is back to his happy, self in just two weeks. If you are looking for a caring staff, who will listen to your concerns, and guide you in the right direction - this is the place! Affordable, kind, and they will treat your pets well!

Laura P. / google
I was so pleased with the Animal Hospital and Dental Clinic! From the moment I walked in, to the moment I walked out my experience was very positive. The young lady at the front desk was extremely friendly and very resourceful. She answered a lot of my questions and was able to strike up an engaging conversation with me. The entire clinic is very well maintained sanitary and very clean. The entire staff is so helpful and kind. Austin had a fantastic visit and the prices are very reasonable! They even convinced me to opt out of an unnecessary procedure which speaks volumes to their character and value. It's hard to find a veterinarian you trust and I'm so glad that I found Animal Hospital and Dental Clinic.

Gevorg C. / google
My first experience with Animal Hospital & Dental Clinic was last week when I had to put my beloved 15 year old dog to sleep. My -now previous vet- of 15 years wanted me to just drop off my dog and leave. They would euthanize him after I left. That to me was completely unacceptable. Animal Hospital and Dental Clinic, on the other hand, gave me all the time I wanted and worked around my comfort level. The whole experience was made so much easier by the professional and caring staff. They showed me and my family that they cared about our dog and our feelings. They made the experience a good as can be given the circumstances. I highly recommend this place for all your veterinary needs. the experience was enough for me to change vets.

Linda D. / yelp
 A friend told me about this dental clinic where she takes all her pets. I told her about my dog who is 11 years old. I told her that my dog had bad breath and bad teeth that look dark brown and were falling out. Since I didn't know what to do she asked for me and helped me take her in. They did a great job on my old pup and her bad breath went away that day. She had dental surgery and was given medicine for the pain and infection.  I was surprised when my baby got home, she was jumping and moving around like she had never even had surgery. In two weeks I took her back and they said everything looks good. This is the best clinic and hospital, I will be taking my other 2 year old dog in for teeth cleaning soon. Thank you Animal Hospital and Dental Clinic staff.

Lupe C. / yelp
Animal Hospital & Dental Clinic
5169 North Blackstone. Ave 
Fresno, California. 93710 
Monday 8:00AM-6:00PM 
Tuesday 8:00AM-6:00PM 
Wednesday 8:00AM-6:00PM
Thursday 8:00AM-6:00PM
Friday 8:00AM-6:00PM
Saturday 8:00AM-6:00PM 
Sunday 8:00AM-6:00PM